The William and Mary Moeur family house on the corner of Ninth and Ash next to ASU in Tempe, Arizona, was built in 1910.  William was a prominent figure in the development of Tempe's early educational system, a member of its first school board and held other key positions during the early years of Maricopa County.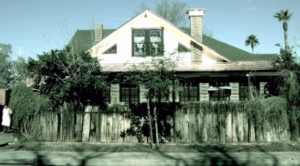 His physician brother, Benjamin B. Moeur, joined William in Arizona. Benjamin became Governor of Arizona during the Depression Years, 1933-1937.  


Photos from Casey Moore Oyster House Investigation.
The brothers Arizona history is intriguing by itself.  But today, the Moeur family home has become Casey Moore's Oyster House, known as one of the most haunted locations in Arizona!
William died in 1929 from a Cerebral Hemorrhage near the fireplace in their home.  Mary died in an upstairs bedroom of natural causes in the 1940s.  Following their deaths, it has been said that the house became a bordello, active with parties, rapes, suicides, drugs and murders.
In 1973, a restaurant, Ninth & Ash, was opened.  It sold in 1986 to become Casey Moore's Oyster House.  Evidently, William and Mary approve of the restaurant because neighbors have seen their spirits dancing in the upstairs room window around 4:00 am!  Often a faint glow can be seen in the window.  Police have investigated and found no logical reason for the window's light.  Forks are known to fly off the tables upstairs. Tables, chairs and table settings arranged in the evening are moved and reset in the morning when the staff arrives at the restaurant.
Interviews EVPS and Investigation
Spirits from the active bordello days have also chosen to remain at Casey Moore's!  Customers and staff have experienced paintings falling off the wall and lamps swaying with no obvious explanation.  The spirit of a young woman with light eyes and dark black hair visits.  It is said that she was murdered by an acquaintance during the bordello days.  She watches you until you meet her eyes and then she disappears!
Casey Moore's Oyster House has been voted the Best Bar for Conversation in the area.  It is a hotspot for ASU students.  Check out the great food, great bar, fun atmosphere, and resident ghosts!    
© 2012 - 2035 Scott Litaea, Haunted Stories with Scott Litaea, Paranormal Legacy, My Paranormal Corner, All Rights Reserved.