The History of the Queen Mary Ship.
The Royal Mail Ship (RMS) Queen Mary was built in Clydebank, Scotland, under the ownership of Cunard White Star Line.  Designed and equipped to be a transatlantic super ocean liner, she sailed in 1936 from England to New York City.  For three years, her prestigious, wealthy passengers included Royalty, movie stars, statesmen and prominent politicians who sailed in elegance and experienced the grand era of ocean liner travel.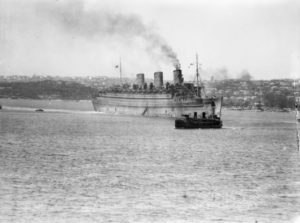 World War II broke out late in 1939. Because of her speed, size, and technology, it was decided to retrofit the Queen Mary to serve as a troopship. The elegant furnishings were stripped from the interior of the ship and stored in warehouses. During the conversion, much of the ship was painted navy gray and she became known as "The Grey Ghost."
The Queen Mary transported over 15,000 men on many voyages, some who were ill or injured from the battles of the war. Areas of the ship became a hospital on the water with doctors and nurses treating the troops.
Interview with Lee and Jennifer Kirkland and Jeff Waldridge of Nick Groff Tour
After the war, the Queen Mary was returned to its status as a world-class transatlantic ocean liner. However, by 1960 air travel was becoming the preferred mode of transportation. After years of financial difficulties, the Queen Mary was retired in 1967 and moved to Long Beach, California.
 EVP and Video Evidence from Queen Mary Ship. 
As Queen Mary moved into her new role as a tourist attraction with restaurants, a museum, and event facility, there were rumors of ghosts and spirits roaming the ship. Children's voices can be heard playing in the nursery, a spirit of a sailor who was accidentally killed in the engine room still is there, a mysterious "lady in white" is a frequent visitor.  Visitors to the swimming pool area report having the hair on their arms "stand up" with an eerie sense of spirits besides them. 
Peter James Interview about Queen Mary Ship
At least 49 crew and passengers died during her years as a transatlantic super ocean liner.  No one knows the number of war casualties who died on the ship, as these records are sealed by the US Military. 
Ghost Host Sophia Temperilli Interview 
Following many owners and management changes over the years, in 2015 new owners remodeled many of the areas of the ship.  The question is "Do those who continue to live on the Queen Mary long after death like it?"
Visitors will not be disappointed.  See you in Long Beach at the Queen Mary.
Peter James tribute Photos 
© 2012 - 2035 Scott Litaea, Haunted Stories with Scott Litaea, Paranormal Legacy, My Paranormal Corner, All Rights Reserved.