At the turn of the 20th century Villisca, Iowa, was a quiet little town in southwestern Iowa.  Trains could be heard rolling down the tracks on the southern part of town.  Little children played in the streets, rode their bicycles and families had picnics in the park after going to church on Sunday morning.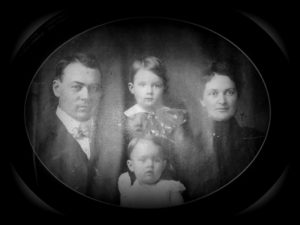 On June 10th, 1912, the peaceful little town was changed forever. A small, neat, white house on the corner sat eerily quiet on Monday morning when a neighbor became suspicious of the lack of activity.  She contacted a family member who was able to find a key, unlock the door, and walk into a bloody downstairs murder scene. The sheriff was called.
Photos From Con Con Event
EVP Evidence and Interviews
Eight people had been bludgeoned to death.  An axe was left at the scene.  Josiah and Sarah Moore and their four children Herman, Katherine, Boyd, and Paul along with two overnight visiting friends of the Moore children, Lena Gertrude and Ina May Stillinger had been murdered as they slept.  There was evidence that Lena, who was 12, may have tried to fight off her attacker. 
Over 100 years later, the murders have not been solved.  The little house was restored to its 1912 condition in the late 1900s.  Visitors will experience the small oil burning stove to heat the house, upright piano, quilts covering the tiny beds, life as it was in 1912. The spirit of a child can be heard saying "I want to have a birthday party" and footsteps can be heard overhead upstairs. Spirits continue to dwell in the little house on the corner. You will feel their presence as you tour or investigate The Axe Murder House in Villisca, Iowa.       
© 2012 - 2035 Scott Litaea, Haunted Stories with Scott Litaea, Paranormal Legacy, My Paranormal Corner, All Rights Reserved.