The History of Preston Castle
The majestic, spooky Preston Castle, also known as the Preston School of Industry and Preston Youth Correctional Facility in Ione, California, is nearly 50,000 square feet which includes the basement, four floors and a three story annex.  The Castle was built during the 1890s and is surrounded today by 13 acres with stately support buildings.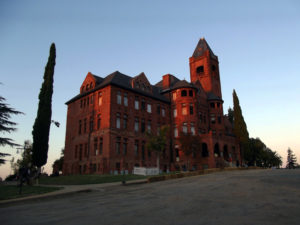 Preston Castle was known as the "best reform school" to the outside world.  But inside its walls was a hard, brutal life.  New wards were forced to swim in a small indoor pool of lye.  The second floor housed staff apartments and a dormitory for boys.  Horrific stories of abuse and neglect became known over the years. Wards died of severe illnesses like tuberculosis.  Other wards were killed by guards. A grounds cemetery has twenty three graves, individuals who were sent to Preston Castle to be "rehabilitated."
Anna Corbin, the head housekeeper was brutally beaten to death on February 23, 1950.  The suspects were wards and staff, but her murder remains unsolved.  It has been said that her spirit still resides at the Castle along with the spirits of other wards and staff who did not pass to the other side.
The State of California closed the Youth Correctional Facility in 1960.  It deteriorated over the years.  Preston Castle is listed as a California State Historical Landmark and is listed on the National Register of Historic Places.  In 2014, the property was deeded to the Preston Castle Foundation, which through volunteers, planned events and public relations activities is making efforts to preserve and rehabilitate the Castle.
Interviews and Investigation
Today visitors taking the Tours can sense the depressing, disturbing atmosphere and past horror within the Preston Castle walls.  Visitors may experience cold spots, intense fear and hear strange noises.   If you are in the Sacramento area, it is a "Must Visit" side trip.  There is no doubt you will be fascinated with the eerie Preston Castle.
Pictures from Preston castle Event
© 2012 - 2035 Scott Litaea, Haunted Stories with Scott Litaea, Paranormal Legacy, My Paranormal Corner, All Rights Reserved.